Apply your creativity & win a free copy of English Metal Slug 3. The contest requires your custom design of a shelf configuration for the cabinet below. Applicability & cosmetic appeal will determine the winner. The best design will be forwarded to Ello Furniture for assembly of a custom built cabinet. Submit your final drawing to webmaster@neo-geo.com or fax to (901) 323-8220 by October 1st.
1st Place winner will receive a copy of English Metal Slug 3 shipped EMS anywhere in the world.

2nd Place runner up to receive $50 Neo Store credit. Free shipping included as well.

Contest involves the use of creativity and a basic understanding of carpentry.

A drawing containing measurements/dimensions of your custom design is all that is required.

The shelving system should not be designed to house a TV, only neo-geo home cartridges. Refer to the collections page for ideas.
You have a 77" high x 61" wide area to work with. Do not be concerned with the TV or internal pictured shelving. Your goal is to redesign this area for housing a neo-geo home cartridge collection.
Things to consider:
Cosmetic appearance.
Symmetry.
How much distance between shelves?
How thick should each shelf be?
Consider the combined weight of neo carts involved.

Home cartridge measurement:
(Approximately)
1.825" Wide
8.7" High





Closed Position. Do not be concerned with left or right side shelving,
only what is behind the front 4 doors panels.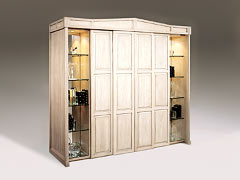 The lighting & sliding doors are
electronically controlled via remote.
Direct link to this cabinets official page @ Ello:
http://www.ellofurniture.com/products/entertainment/estate.htm
See the electronic doors in action. Different style, similar measurements:
http://www.ellofurniture.com/home.htm