The Fatal Fury Disciple
15 Year Member
Joined

Aug 30, 2016
Posts

2,319
"In 1995, following the success of Virtua Fighter 1 and 2, SNK started a 3D adaptation of Fatal Fury tentatively called Garou Densetsu Dream. Each player could choose between 5 camera angles including a first person view."
According to the document below, the game would have featured an 8-way movement system with a 4-button layout with a button dedicated to the following:
Punch, Kick, Jump, Duck
In addition to being able to perform a dash towards or away from your opponent, blocking would have been executed by holding away from your opponent rather than with a dedicated block button like in Virtua Fighter.
The 5 proposed views are labeled as follows and could be changed by pressing either select or start:
A) Virtual View
B) Back View
C) Normal View (The document indicates that this would have been the default view at the start of the match)
D) Bird's Eye View
E) Overhead View
Note that each player would have had their own independent view as shown in the illustration.
The description of the Punchout-esque wireframe view of the fighter in the foreground during the "Virtual View" angle would have been quite interesting to see during gameplay since the Garou series (and SNK fighters in general) was fairly heavy on the special moves rather than hand to hand combat at this point in the series.
Furthermore, the game would have featured a distance ("間合い") meter that reflected the position/zooming of the opponent during the match. In shot 1 of the illustration on the lower right, the notes indicate that an attack will not hit at the depicted distance. However, in shot 2 the opponent is at a range where they can be hit by attacks, while shot 3 depicts the range at which the opponent can be thrown.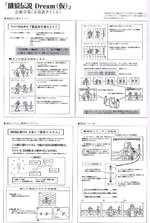 A project that perhaps eventually evolved into Wild Ambition? These are interesting concept details.
Some cool info about Nam-1975 not originally starting its development on the neo geo in the original tweet below.
Source: VGDensetsu
Last edited: