Add $10 shipping to US, $20 to Canada, or $50 international. PayPal F&F or add 5% to purchase to cover applicable fees for Goods & Services.
If local-ish pick-up is requested (these are pricy games, so I get it), no shipping cost will be added but PayPal is still the payment method.
Games are already priced much lower than the going rate for similar conditioned copies. Feel free to throw me a reasonable offer.
Can provide extra pictures if needed. No, I won't open the carts for noobs. These are 100% legit.
AES:
PENDING (Off Site) $2900 Pulstar - CIB - Excellent+ - Cart sticker is slightly sun-faded of all things, but insert, manual, and case are all in excellent condition with no fading.
Decided to keep it $1000 Ragnagard - CIB - Excellent - Great condition overall and no insert fading. Manual in good shape, but no baggie.
NGPC Bundle:
SOLD $40 Loose: Fatal Fury First Contact (JPN) and Match of the Millennium (Western with small tare on cart label at top). Both come with the small plastic game case (no snaplock or cardboard cases).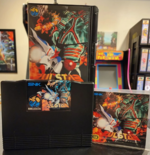 Last edited: