If I could have, My time back, I'd keep it in ma'
Joined

Jul 8, 2012
Posts

824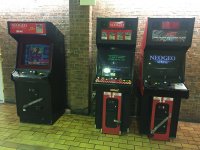 Up for play are:
(1) Bust-A-Move on a very blurry CRT with sound turned off in a single-slot cab *
(2) Rally, 8Man, Samurai Showdown 4, Magician Lord on a decent CRT with sound turned off on a 4-slot.
(3) KOF 2001 on a single-slot, with sound!
Sadly, but truly - this is the best arcade to be found in Toronto these days. Still nice to see these bad-boys going strong!
* in a dynamo cab, but it's still a big red to me dammit!
Last edited: