Yoooo I got a couple MVS carts I'm looking to sell
or trade for a Blazing Star MVS cart
.
Prices are OBO in USD, shipped in the continental USA. International pays for additional shipping cost.
If my prices are off, let me know. willing to work with the buyer on a price we're mutually agreeable with.
Both games are original, 100% working.
Samurai Shodown IV: Amakusa's Revenge
(w/ repro label) -
$110
- $100
Fatal Fury 2
- $60
SOLD
for $46 shipped.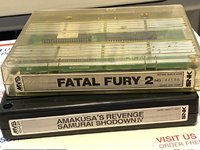 Last edited: