Gone
$15 to US, $40 international. Pay Pal F&F yadda yadda.
Everything you see in the pic. Mortal Kombat is CIB works great. Alisia is an authentic cart with repro case and works great. SoR2 I suspect works but I have no way to know.
Both the GG and GBL are busted, but the GBL has an IPS screen. Botched this trying to replace the busted speaker. Prolly an easy fix. MMX2 on GBC also has an issue I can't solve. I think the GG's issue is power supply cap related, but I don't have time for this.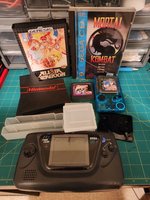 Last edited: