Joined

Mar 22, 2016
Posts

2,788
So, this "JAMMA" conversion of a Dreamcast isn't really JAMMA. Its got a weird wiring diagram where it wires all of the action buttons to the JAMMA edge connector. So Pins 27/28 on each side which are usually ground (as is my understanding). Because of this, if you hook it up to a standard harness, the thing will start up just fine, but will NOT work with any controls. Controls will be dead to the world.
Ive looked around and some people say to clip/disconnect 27/28 on each side of the harness, and this will fix it. That is not the case. Then someone on KLOV said this:
In order to get the controls on the arcade cab to work you need to cut the last two connectors (27 & 28 on both sides in the JAMMA Pinout Diagram above) and splice them into the power ground (1 & 2 in the JAMMA Diagram above). If you don't connect them to ground, none of your controls will work. This is different from what has been posted elsewhere that said you can just cut and cap off the wires or just lift the pins.
So, I've tried creating an adapter and the lifted pins solution does not work. I tried what I *assume* to be routing those connectors to the power grounds.. as far as I know I did it correctly, but it's still not working.
This is the MGCD pinout.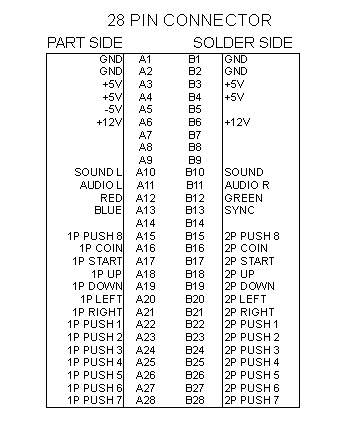 JAMMA Pinout: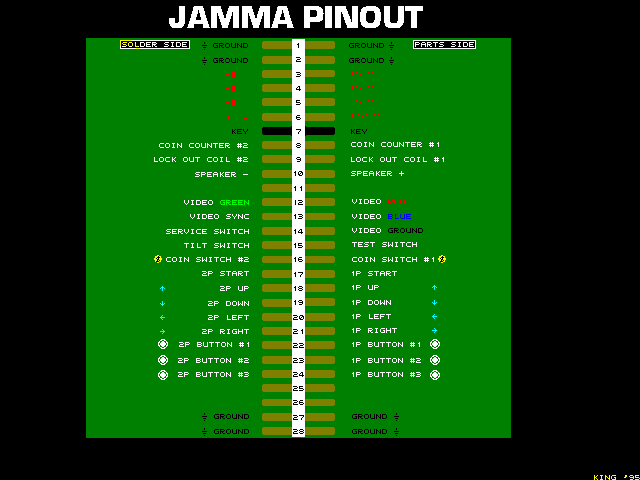 This is what I was able to get from the quote I posted:
Make fun of me if you want to, but that's the only thing I can imagine he meant to do, and naturally its not working still. System boots up nicely, and will work with a Dreamcast controller plugged in, but cab controls do not respond at all. Any ideas? The guy that claims he got it to work by leaving the pins disconnected has a post here:
http://arcadefever.blogspot.com/2010/05/hacking-mgcd-part-1.html
but he hasnt posted there since 2018 so I doubt he'd respond to anything.