Decided to unload a few things. I may add more as the days go on.
$10 Shipping to US or $70 international. PayPal Friends & Family or I'll add an extra 4% for buyer protection.
Priced to sell, but feel free to send me an offer if you feel the price is off. Everything is in excellent condition unless otherwise noted. Pics below.
Put Switch on Ebay as I doubt it will sell here, but you all get a $100 discount from the ebay sale.
Switch Bundle $500 SOLD
Switch Console - Launch Edition comes with box and all original accessories in excellent condition. Includes Dock. Red/Blue joy-con variant and low serial. Purchased at launch in 2017.
Pro Controllers x2 - Official Nintendo Pro controllers
Hori d-pad joy-con, Zelda Edition (replaces left joy-con with one that has a REAL d-pad - original Joy-Con included)
Physical Games:


Andro Dunos 2
Psyvariar
Azure Striker Gunvolt Double Pack
The Ninja Saviors (Ninja Warriors Again redux - this game is AWESOME!)
SNK 40th Anniversary
Mario Kart 8
Super Mario Odyssey
Legend of Zelda Breath of the Wild
Collection of Mana
Kirby and the Forgotten Land
Mario 3D All-Stars
Egret 2 Mini: $200 SOLD
Console - Includes box and original accessories (base model)
2x - Egret 2 Mini Controllers
Correctly rated PSU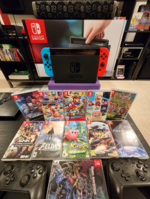 Last edited: