Vanessa's Drinking Buddy,
15 Year Member
Joined

Feb 10, 2003
Posts

6,256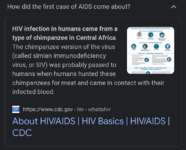 Chimpanzees are believed to be the source of HIV, from hunters coming into contact with their blood after a kill, not fucking...but, who knows what those African hunters were really up to?
I wonder if their version of HIV is more mild? Since chimps fuck each other fairly indiscriminately, you'd think their primate community would all end up with it and eventually be wiped out as a result?