Written by BonusKun
Fatal Fury 3 Dip Codes

1-1 Infinity time & instant time over (press Start during fight).
1-2 Both players are invincible.
1-3 Stage select enable.
1-4 Unknown
1-5 Display Dot positon?
1-6 Press ABCD on either player to decrease your opponent's Health bar.
1-7 Display sprite's frame.
1-8 Display sprite's frame.
2-1 Enable "Easy Super moves". For SDM just do: down, down +A, and for Hidden SDM do: down,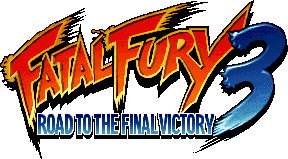 down +C. Shadow mode: down, down +CD.
2-2 View all story sequence.
2-3 View ending.
2-4 Unknown
2-5 Enable secret bosses.
2-6 Display position?
2-7 Unknown
2-8 Unknown

Afterthought: This is the 1st set of codes I've posted that i had nothing to do with. Originally this set of codes was done by Billkwando and posted to me again by Wolferaizer who had gone through and did these codes up himself. This of course has made me go back to my Real Bout 2 codes and dicover that I missed quite a few things. I'll be revising those codes as well. In general I've had a busy week so my time devoted to this has been elsewhere. Once I get through this mess, I'll be here more full time and posting dips on a full time basis. Thanks again for those of you that wrote in.
Forums | Neo Collection | Master List | AES Price Guide | MVS Price Guide
CD Price Guide | Neo Store | Screenshots | Reviews | Home | Email