SAMURAI SHODOWN II DIP CODES
Written by BonusKun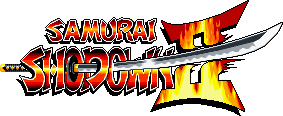 Samurai Shodown II Dip Codes
1-1 Displays task editor
1-2 Unknown
1-3 Unknown
1-4 CPU controls 2nd player's character
1-5 Allows human to control CPU. Load last stage to control Mizuki
1-6 Unknown
1-7 Unknown
1-8 Annoying shadow across screen.*aka Pal Mode*
2-1 Unknown
2-2 Player 1 is invincible. Sound test. Press select to use.
2-3 Unknown
2-4 CPU controls both characters.
2-5 Unknown 2-6 Unknown
2-7 Displays player data and Sprite viewer.
2-8 Displays hit detection boxes and memory addresser.
Afterthought: I found myself today with an urge to play a classic. I wasn't really thinking of doing the Dip codes for this but, It just worked out that way. Following along with the usual information, This set of codes seems to be a nice choice selection. I'm still messing around with a way to play as Kuroko *The Referee* in 1 player mode.
As of this writing, I'm getting ready to head out to A-Kon where I shall hopfully meet some old friends and make new ones. I've been spending most of my time offline with me crunching in hours at work to make up for the amount of time I will be gone. So if anyone has noticed my absence as of late, Worry not. I'm still alive, kicking, and working hard in many other projects among this one.
I hope that those of you who know of me and are attending A-Kon will seek me out. I'm probably going to stick out as the guy with the 'Neo' so you shall not have to look far. I recently got a request to do Kinuza Tag Battle dip codes. I find it funny seeing as that is one of the Neo home carts I do not own....yet. I'll probably ask for outside help on this title and try to piece together something nice.
Once again, Thanks for writing in and please feel free to ask me any questions regarding these codes or the debug faq. Until then, See you at A-Kon....
Forums | Neo Collection | Master List | AES Price Guide | MVS Price Guide
CD Price Guide | Neo Store | Screenshots | Reviews | Home | Email