Divine Hand of the UniBIOS,
Staff member
20 Year Member
Joined

Nov 12, 2002
Posts

4,651
It is with a big thanks to 'ack' that this issue was found and fixed. To cut a long story short, ack donated me a 4SLOT in relation to fixing issues in PICKnMIX on multislot hardware. Once I got the MVS I could not get my 161-in-1 working correctly with it. Yet for ack it was working fine. Only difference was ack had 161-in-1 ver 1 and I had a ver2.
During my tests trying to discover the issue I discovered that trying to view the 0x200000 region with the unibios memory viewer would cause a system crash. Ack bought a version 2 161-in-1 and started to experiance the same issue. Still with no idea the cause ack looked over the PCBs in a last ditch effect to spot something.... And he did!!!
He discovered the following.
VERSION 1 PROG BOARD SOLDER SIDE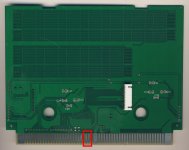 VERSION 2 PROG BOARD SOLDER SIDE
As you can see clearly from the pictures above on the first version the pins are bridged and on the 2nd version they are not.
He decided to bridge the pins to see if it helped... and BINGO.... It solved the problem.
VERSION 2 PROG BOARD SOLDER SIDE APPLIED FIX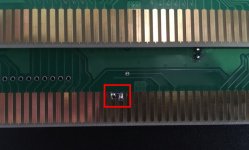 In short.... If you have a version 2 161-in-1 I would advise applying this fix. It will for sure help on a multislot MVS but it might help in other situations also on single slotters. There is enough room to be able to apply the fix without the need to disconnect the PROG board from the CHA board (as picture above implies).
We also think at the moment it might be possible to tell which version you have by looking at the label, it seems (from the ones we have at least), if the edges of the cart label are square its version 1, if they are rounded its version 2.
Raz
Last edited: