Came across this text suggestion last night in Messenger+ on my phone (built into Motorola phones).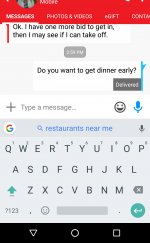 Now, it could just be that the application just has certain trigger words linked to a list of predefined suggestions and is kept locally. Then again, it could be sending and storing anywhere.
Ha, okay now this is funny. As I was typing that last line above, this popped up on my screen. I was taking a drink of coffee near the phone which triggered a touch, but still funny anyway.
View attachment 44165
Last edited: