Frenzy Football Player

10 Year Member
Joined

Jul 1, 2012
Posts

981
So I've always wanted to make games, and I've dabbled in game development for a while now, but never truly completed anything that I would consider a "finished" game. That is until today!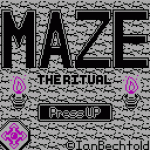 ​
After about a week's worth of solo work, I released my game called
Maze: The Ritual
. It's a short first-person dungeon crawler-esque game, made in a program called
Bitsy
. It is free and played in your browser, it even works on mobile!
I figured you guys here would possibly be interested, but if not no biggy! If you do end up trying it out, let me know what you think!