Science will find a way!,
20 Year Member
Joined

Mar 4, 2001
Posts

1,208
Interest check on a fancy Donkey Kong cocktail that has been powder coated US DK orange with redesigned custom art. It has all new wiring(jamma) with a standard 12v/5v power supply and is ready for an lcd screen to be dropped in. I had to pull my Pi and LCD for another project. I can add a scan line generator 3000 too. I have a heap of spare original parts as well(extra CP plate, original mounting brackets and more) I had new glass cut for for this and it has new semitsu sticks and buttons. Throw a loaded Pi in here and you will have the prettiest cocktail that can play any vert game. That was my original use but space made me move to something else.
Edit: this is an original 2 player cab so you just have to set the Pi to flip the screen for the 2nd player.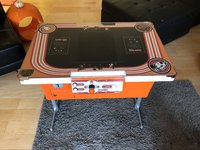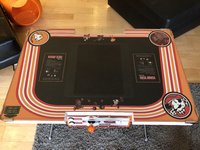 Last edited: