Robert Garcia's Butler

10 Year Member
Joined

Oct 9, 2012
Posts

1,283
Hey all,
I picked up this one slot board a while back with the battery already removed. I put a coin cell holder and battery in today to restore the functionality, but it's still not working properly. The settings do not save and the internal clock runs endlessly fast, just like if no battery is present.
Whoever removed the battery removed the resistor for the charging circuit, but also the diode above it.
My question; would the missing diode affect the battery functionality? If so, what value diode do I need to replace it with?
If not, what next? I had repaired some previous trace damage from the leaky battery, I may have to look for more.
I've attached an image of mine plus an image from jnx (ignore the highlighted resistor, I'm talking about the diode above it) for reference.
Thanks
-egg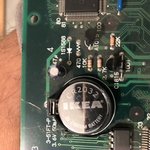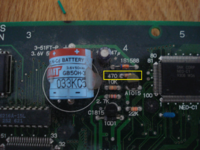 Last edited: