Hey guys,
I'm doing some cleanup/rearrangement of my downstairs and I have an old 9800GTX+ with an aftermarket cooler. I'm not sure if anyone has a use for it at all. A lot of you guys are way way more techy than me, so who knows.
I have its sister in my machine just for PhysX. Used to run them SLI before they were replaced by a better card.
The cooler is pulled off the card right now. I was gonna do a voltage mod, but never started it. I'll give it away to anyone for free if they wanna toss me a few bones for shipping. Otherwise I'm gonna toss it out. Just hate to waste something if someone can make use of it.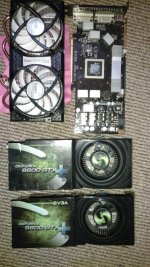 Last edited: