Sold for $140 including shipping
Letting this JP Saturn go. It looks like a 1st gen Saturn, but it actually has 2nd gen insides (this is a 21 pin Saturn). I remember finding that it had a JVC drive, if that matters to you. I installed the Phantom mod chip in this myself. It also includes a second, uninstalled Phantom mod chip.
I was learning how to burn games, but before I could figure it out, we moved. I forgot about this system for a good while, Saturn ODEs began coming out, and I installed one of those in a different Saturn. I do recall the system working with some burns I had from when I was in high school, but I didn't test it much, and as I mentioned, I was unable to figure out how to make new burns myself. I assume the chip is installed correctly, but there is a possibility that some troubleshooting might be necessary, as there always is with stuff like this. Original games work with no issues at all.
This includes the following:
- Saturn console which has the Phantom mod chip installed
- Controller
(This thing obviously had something spilled on it a long, long time ago, perhaps some Van Houten Milk Cocoa. I don't know, because I noticed this when I was initially taking pictures for this listing. I thought to myself, "Ugh, what's all this then?" and also thought that I couldn't sell it like that. So, I took it apart and cleaned it. I let the pieces dry overnight and reassembled it this morning. It's all working and looks quite a bit better now. I'm sorry for the long parenthetical - It's something I'm working on.)
- Power and composite cables
- An additional Phantom mod chip, which has not been installed
-
A new CR32 battery
(I'll ship this in a bag and let you install it so that you can get maximum life out of it)
Looking for
$160
$140 which includes shipping. If this price seems off, I'm happy to work with you. Will go out via priority mail and I'll of course pack it well. Only shipping to the US right now, sorry to everybody else. Thanks for looking.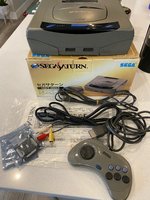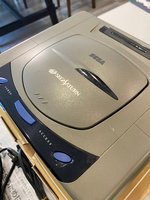 Last edited: