written by Tarma Roving
| | |
| --- | --- |
| US Title: | Super Sidekicks 4: The Ultimate 11 |
| Japanese Title: | Super Sidekicks 4: The Ultimate 11 |
| By: | SNK |
| Year: | 1996 |
| Size: | 226 Megs |
| Home Release? | Yes |
| MVS Release? | Yes |
| CD Release? | No |
Super Sidekicks 4: The Ultimate 11 Review
By Tarma

When you browse through the catalogue of title for the Neo-Geo, (be it AES or MVS), you can't help but notice that there are very few sports titles on the system. This is a shame because of the sports games that are out there, they are of a superb quality, with Neo Turfmasters and Neo Driftout springing instantly to mind. The sports genre that does get most coverage is football (or soccer as some like to call it). There are a number of football titles available on Neo-Geo, with the Super Sidekick series being the most prolific. Super Sidekicks 4: The Ultimate 11 was released back in 1996 and is technically the last game so far to appear in the series (Neo-Geo Cup '98 was released after Ultimate 11, but is basically a rehash of Super Sidekicks 3 – more on this later).

Super Sidekicks 3 was nothing more than an update of Super Sidekicks 2. Slightly polished graphics and a few more teams thrown in. However, Super Sidekicks 4 is no update, here SNK went straight back to the boot room to rebuild their squad. SNK have put in 80 teams for you to choose from (a massive 32 more teams than Super Sidekicks 2), all with their own strengths and weaknesses; two major tournaments (SNK Championship and World Cup), SNK Grand Championship mode, and of course an Exhibition mode. Let's get off to the match then, with commentary from Tarma Roving –

"Good evening John. Well it's an electric atmosphere here at Wembley with the stadium at capacity. Let's take a look at the players and formation SNK have gone with…

Sound.
"What music there is in the game is quite good, but is instantly forgettable as there is so little. The sound effects serve their purpose, nothing we haven't witnessed in any of its predecessors; although the programmers have used the same crowd effects from Super Sidekicks 3, which is disappointing because these are actually inferior to Super Sidekicks 2 crowd effects. The sampled speech is crystal clear and used to describe any stoppages or set pieces as well as used for various introductory purposes.

Graphics.
"I'll cover the presentation side here as well as it all goes hand-in-hand. What can I say? The graphics are beautiful and detailed for an arcade football game, and are very noticeably superior to previous incarnations. The players are well detailed, and you can easily spot the key players of the day by their hair-styles (Paul Gascoigne, Roberto Baggio for example). The player's sport bastardised versions of their real names (SNK obviously didn't want to spend money on official licences), but it's easy to work out who is who.
"The stadiums are very well presented, each with their individual style and well animated crowds (watch out for some familiar faces!), and each surrounded by advertising boards pimping such wonders at Neo-Geo Land, and Akai electronics! The pitches are well drawn and scroll smoothly and without the glitches that appeared previously.
"The scrolling, rotation and zooming is very smooth and the game cuts to cut scene celebrations and different play modes effortlessly.
"The overall presentation is first class with lots of effective use of digitised crowd and player celebrations. The opening sequence really sets the scene well. The goal celebrations are not quite as cheesy as they have been, but they could have been a bit more inventive.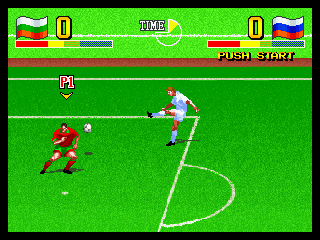 Gameplay.
"One of the first things you'll notice is how differently the game plays to its predecessors. You will notice straight away the 'energy' bars at the top of the screen. These are related to your strikers shot power. The more possession you have of the ball, the more the bar increases, until it reaches max and starts flashing yellow. Your strikers now have super shot power and so you can really smack a shot in against your opponent. I haven't made my mind up about this feature yet as 99 times out of a 100 the ball will go searing into the back of the net.
"The 'chance' feature is still present, but rarely becomes available to you. When it does, the camera changes angle putting you in a 1-on-1 situation with your opponents goalkeeper. However, the game doesn't go static and bring up a shot-cursor as previously seen. Instead you have to make your own judgement about where to shoot, or whether to try and go around the keeper. This is a nice feature and distinguishes the game well from its predecessors, it's just a shame it doesn't became available more often when you play.
"When a player gets fouled or injured there are some nice little animated scenes of player reaction, and if the worst has happened you'll see your player get stretched off the pitch. A really neat touch is there is a little flashing dialogue box telling you your guy is receiving treatment and eventually he'll rejoin the match.
"The teams still don't change ends at half time (why??!!), and there is no substitution option (not really necessary for a game of this type).
"There's a lot to keep you coming back to the game. The World Cup is really self-explanatory,
"Each team is individually ranked (just like in real life) and each team has its own strengths and weaknesses. 80 teams is a hell of a lot to choose from, so there no limits to what teams you'll come up against, or pit yourself against. SNK Championship sees you play against one team (you get to select your opponents) from each of the eight continental groups as you vie for the SNK Championship trophy.
"Then there is the SNK Grand Championship where you pick a team and then a continent to play against (you pick your first opponent and then the CPU picks the remainder of the opponents from teams available to that continent).
"You also get bonus matches thrown at you, (a 'burst in' feature like Shingo in KoF '98 and Angel in KoF 2002), when you have to go up against the Neo-Geo All Stars!

Overall
"Super Sidekicks 4 is a very slick package that deserves to do better than it has so far in the eyes of Neo-Geo players. One thing that will obviously put people off is the price and availability. I know little about the MVS version, and there is no Neo-Geo CD version; however, the AES cart is rare and expensive, in fact the Euro version of the game is one the rarest and most expensive games in the Neo-Geo AES library.
"A huge strength is the sheer number of teams available for you to select. So, as soon as you've won all the tournaments with one team, you can go back and it all again with one of the other 79 teams available to you.
"The few kinks the game has could have been ironed out and the whole game perfected in time for the release of Neo-Geo Cup '98. In fact Neo-Geo Cup '98 could have been one of the greatest arcade football games in history; instead, SNK, in their infinite wisdom, repackaged Super Sidekicks 3 with a different opening screen, a few more teams (but less than Ultimate 11), and that was it. Graphics and sound were nigh on identical to the inferior Super Sidekicks 3.
"If you enjoy arcade football games and you don't mind spending big bucks on AES carts then I highly recommend you track down a copy of Super Sidekicks 4. After all it is the Ultimate 11!"


Graphics – 9/10
Sound – 7/10
Playability – 8/10
Life Span – 8/10
Presentation – 9/10
Originality – 6/10
Value For Money – 5/10

Overall – 8/10


Addendum: Since I began writing this review there was a discussion within the forums about which football game was the best on the Neo-Geo. Those supporting Ultimate 11 seemed, sadly, to be in the minority. However, I stick by my review, as I believe it to be fair appraisal of the game; but try before you buy. Ultimate 11 is not the sort of game you can buy on a whim considering it's high value!

----------------------------------------------
More Reviews of This Game:
by Kazuya_UK - Courtesy of Kazuya's
Forums | Neo Collection | Master List | AES Price Guide | MVS Price Guide
CD Price Guide | Neo Store | Screenshots | Reviews | Home | Email