Random stuff for sale.
If you're concerned about condition, please ask.
Since the brain stuff I can't drive, so shipping can happen about once a week. If I sell too many CPS2 stuff I'll put things on hold, I don't know how many boxes I have for the big things.
Everything will be retested prior to completion/shipping.
*Net City 2l2b panel. Needs overlay and cleaning $35 shipped
*N Astro City 2l3b. Has buttons, rust on the backside. Overlay is in okay shape. $40 shipped
Take both for $55 shipped
*Recca NES box/cart/manual/styro. Box/manual are in english from a limited run a few years back. $48 shipped
*Powerstone 2 Naomi Cart $130 shipped
Phoenixed CPS2
*19xx Grey AB (a buttons fell inside. I'll look for a fix but dropped the price in the meantime) $180 shipped
*Gigawing Blue B $330 shipped
*Mars Matrix Green B $330 shipped
*D&D Shadows over Mystara Blue B $265 shipped
*2 blue, 1 green motherboard CPS2 $90 shipped ea.
SOLD & OTHER STUFF:
*1 new unused repro blast city panel (top one in pic, wrap still present) $135 shipped
*Turbo/PCE Everdrive (newest version) w/ SD card $89 shipped
*Gals Panis Kaneko 4/S Korean (motherboard works but the connection between cart and motherboard must be snug or things glitch-hence the low price) $90 shipped
*Progear Repro (can I sell this here?) $180
*1 used Blast City panel $95 shipped
*Hyper SF Anniversary repro (?) $180
*Powerstone 2 Naomi $135 shipped
*Bag of dirty used seimetsu joysticks. temp hold
*Aliens Vs Predator Blue B $255 shipped SOLD
*Wells Gardner D9200 Chassis. Purchased working as a spare, has sat for a year so sold as untested. Made in Malaysia (which I guess is the b-tier D9200 chassis?). $75 shipped SOLD
*Xmen Blue B (might be battery) $100 shipped SOLD
*Battle Circuit Grey A/B SOLD
*Neo Candy, no monitor. Was working- I bought it for the monitor. You *could* wire in one of those CGA/VGA adapters, toss a flat panel in there, toss in a multi jamma and be done with it. Has doors and seems like most of the parts. No front glass, locks are mostly drilled. $100 obo (pics later in the thread)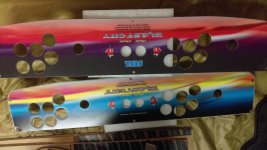 Last edited: