Iori's Therapist

10 Year Member
Joined

Jan 28, 2009
Posts

4,162
I found a I/O pcb on eBay a few months ago, and after some really solid cleaning I got around to testing it on my Rev 2 mobo.
As far as the layout between a rev 1 and driving I/O boards are concerned, they appear to be identical. Seems like the bios is controlling the functions of the board itself, as my bios is marked with a D revision...which I am highly assuming is driving.
I don't have a Rev 1 I/O board to test my theory on, but my guess is if you bios swap the boards you can convert a fighting board to a driving and vise versa.
Now I just need to wire up a wheel and pedals. Unfortunately my I/O board came with no wiring, so I need to rebuild both harnesses into the board and then figure out what pins are what. I haven't found a schematic for the driving games yet so that'll be fun......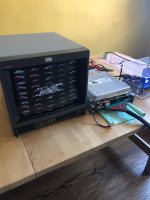 and I did boot past network check screen using the pinout ground diagram on Jamma Nation X. Glad that exists!