Selling the following as a lot - will not break these up. I stumbled on a great deal on all actual Naomi carts I want, so I'm going that route with a Naomi 1 board instead of this (rather awesome) set-up. My wishy-washiness is your gain!

SOLD for asking price.



$400 - PayPal F&F or add 4% for buyer protection. Price includes shipping to US only. This price is firm for the time being, as I think this is a pretty great deal considering what you're getting, and what I originally paid for the set up.

AxunWorks CF Card Modded Net Dimm:

Purchased from AxunWorks with my Axun Supergun. These custom modded Net Dimms have a CF mod directly on the board, but can still be used as a Net card to pull games from a PC or Pi set-up. I've only had this for less than a month, and it works perfectly. Has everything you need for plug and play in any Naomi. Of course, Naomi 2 games will only work on a Naomi 2. Works with Naomi, Naomi 2, and Atomiswave games. If you tried to order one of these from Axun direct it would take 4-5 months.

16 CF Card Games + USB drive with ALL Naomi 1, 2, and Atomiswave games:

Just pop in the CF card, turn on the system, and wait for boot. These boot faster than games off of a GD-Rom, and some games load much faster than others. Power Stone takes about 2 minutes to load, while a larger game like VF4 takes about 4 minutes.

Included CF card games:

Dead or Alive 2, Power Stone, Capcom Vs. SNK 2, Ikaruga, King of Fighters 11, King of Fighters NeoWave, Project Justice, Metal Slug 6, Virtua Fighter 4 Final Tuned, Samurai Shodown 6, Giga Wing 2, Cannon Spike, Marvel Vs. Capcom 2, Dolphin Blue, Street Fighter Zero 3 Upper, Border Down.

As-Is Naomi 2 Mobo: Works

, but the "test" button is stuck on. The Naomi will boot to any game no problem, but it then goes immediately into test mode and you cannot exit. See tech thread here for additional details:

https://www.neo-geo.com/forums/index.php?threads/need-some-naomi-2-help.265717/
I'm basically throwing this into the package as a freebee. If you want to troubleshoot and fix it, awesome. If not, you can sell it for parts.
Comes with a data cable, but you'll need to source a power cable, VGA, and audio cables. My power cable is custom to my Supergun and I need to keep it, sorry.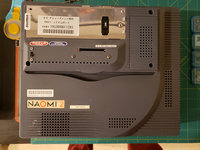 Last edited: