Joined

Nov 16, 2001
Posts

3,990
Asking price (it's more than I would want to pay) and boards (they're legit) aside, I'm not too sure how I feel about these two pictures: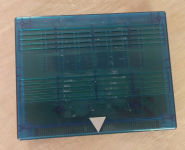 In most other pictures that I found online the cart was a darker shade of blue. The one in the pictures kind of reminds me of Yaton's carts.
The label doesn't seem to have the holo effect. The one on mvs-scans doesn't seem to be a holo label either. Did they really make two production runs of a game like Ganryu?
Also, there's no gold warning sticker.
If you have a copy that you want to get rid of, then feel free to contact me. It's one of the last 3 titles that I'm missing. I'm not looking for the bargain of the century, but I don't want to make a mistake, either. I'm usually pretty good at spotting fake stuff, but this one really threw me off and now I'm not sure what to watch out for.