Bought these three a month or two ago from that same seller who is now selling that Block Paradise proto or whatever in News and Rumors. Don't know much on the proto front but I can say at least that these just arrived the day before yesterday in great condition and are all original.
I'm over the moon, I've searched for 15 years or so to find nice Neo Candy Cabs and finally have two of them. The Naomi was an impulse purchase, couldn't resist that sexual looking looking banana CP and Monkey Ball so no regrets.
I had to get a smaller bed as well as transfer my kitchen table that was where the cabs are now and use it as a computer desk in order to create space for these in the living room... But... Priorities. If anyone wants a free large computer desk in Seattle let me know.
Also, I highly recommend people to use Coin-Op Trucking (find them on Facebook), for future safe deliveries of arcade goods. I got these delivered from Ohio to Seattle for a very reasonable price, they were packaged insanely well and Bob one manned these all up three flights of stairs in under a hour with extreme caution.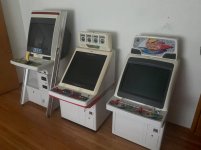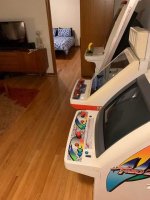 Last edited: