The Almighty Bunghole
15 Year Member
Joined

Dec 14, 2004
Posts

4,300
Well, I fixed one of the only two problems I had in my life: windshield washer pump repaired, one of GM's most ignorant and complicated stop gap systems working flawless right now. Not looking forward to the next issue, it may require a full washer wiper system replacement, as I've read that is the common cure to most issues in this rare system... replacing door felts next week, Then I am proudly problem freeee.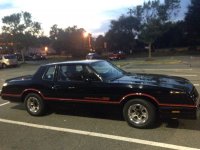 bitch sprays like a true porno now.
As far as projects, I am working 12 Hr. night shifts for the next 2 months straight until they tell me I can't do any more in order to purchase a house or take the money and run to another Neo member's house in Arizona.
We will see I guess?