So my buddy knows how I just picked up my Model 1 Genesis and am trying to start getting games for it. I told him if he ever wanted to part with his Contra Hard Corps and Castlevania Bloodlines, I'd gladly buy them from him.
We were babysitting his daughter last week and he brought by his box o' stuff for me to take a look at. He says it's just collecting dust and asked if $100 for everything would be unreasonable. I told him that it was probably a little low and that he could get quite a bit more. But he insisted and I told him I would buy lunch a couple times too. He's also gonna bring by 2 extra controllers that he forgot.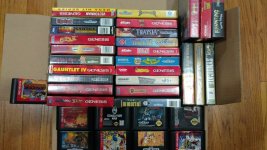 Needless to say, it's a good feeling buying from your friends. Not only is he getting my money, but he's pretty stoked to come by and play some shit now that I picked up my XRGB Mini.
Last edited: